A US air force systems analyst who expressed support for WikiLeaksand accused leaker Bradley Manning triggered a formal military investigation last year to determine whether she herself had leaked any documents to the group.

***

The investigation was ultimately closed when they could find no evidence of unauthorized leaking, but what makes these documents [Air Force investigative documents, obtained through a Freedom of Information Act request ] noteworthy is the possible crime cited by military officials as the one they were investigating: namely, "Communicating With the Enemy", under Article 104 of the Uniform Code of Military Justice (UCMJ).

That is one of the most serious crimes a person can commit – it carries the penalty of death – and is committed when a person engages in "unauthorized communication, correspondence, or intercourse with the enemy". The military investigation form also requires investigators to identify the "victim" of the crime they are investigating, and here, they designated "society" as the victim: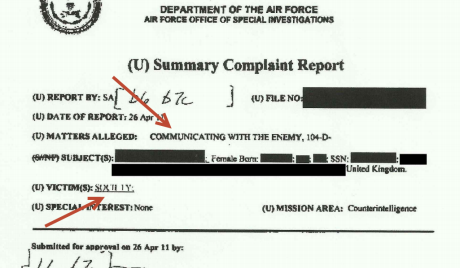 ***

The US government, as part of Obama's unprecedented war on whistleblowers, has now fully embraced the pernicious theory that any leaks of classified information can constitute the crime of "aiding the enemy" or "communicating with the enemy" by virtue of the fact that, indirectly, "the enemy" will – like everyone else in the world – ultimately learn of what is disclosed.

***

It seems clear that the US military now deems any leaks of classified information to constitute the capital offense of "aiding the enemy" or "communicating with the enemy" even if no information is passed directly to the "enemy" and there is no intent to aid or communicate with them. Merely informing the public about classified government activities now constitutes this capital crime because it "indirectly" informs the enemy.

***

If someone can be charged with "aiding" or "communicating with the enemy" by virtue of leaking to WikiLeaks, then why wouldn't that same crime be committed by someone leaking classified information to any outlet: the New York Times, the Guardian, ABC News or anyone else?